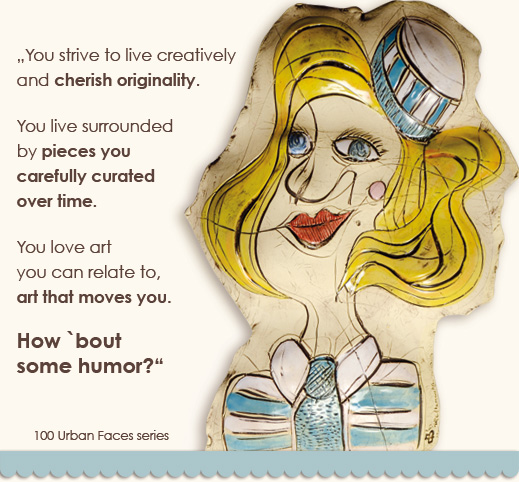 + Art, Faces & Humor on clay and canvas
Humor and Tales of Serendipity are the main ingredients I bring into your life with my paintings, drawings and sculptures. I start all of my pieces with random lines made with my eyes closed. It thrills me to find out who's hiding behind the lines.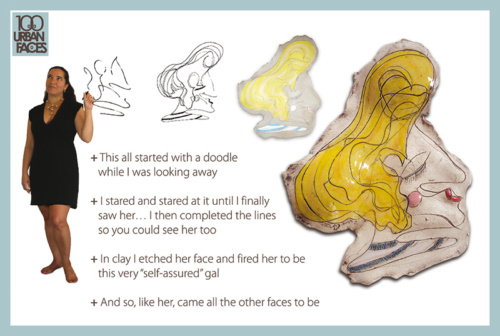 (click on image for a larger view)
I find it wrong that society is instructed, largely by the media, that a human's value depends on finance and looks. Just remember what Sandra Dee did on herself at the end of "GREASE" just to feel accepted. I was only eight at that time, we grow up with this stuff!
I'm on a mission to help redefine who and what we consider beautiful, accepted and of value. I highlight the huge nose, that cute asymmetrical smile, the beauty of a moment of average people simply being, whoever and however they may be…
One quirky drawing at a time.
---
+ Some talk about my work:
"A worthwhile exhibition for artistic exploration"
Veronika Spielbichler
Journalist
Vero online
"This intriguing game of discovery makes these pieces truly unique…"
Birgit – Blogger at the The Picture Garden
"You are special and unique. When you can take something raw and turn it into something of quality and humor so that people can relate to it… you are a success!"
Patricia K.
"The perfect gift to us! Married 40 years and I think this a perfect – set in your way – caricature of two people very alike and compatible, while also being eccentric and having a humorous attitude. Just like us!"
Susan B.
"Atamayka is a great artist! The piece I bought is absolutely gorgeous."
Maria C.R.
"These faces talk to me!"
Karin R.
Receive the following goods
directly in your inbox:
* latest updates
* special options for subscribers only
* exclusive images of art & process

+ About Atamayka
I never thought I'd be an artist. As a child, I always wanted to be a singer or a painter, either one of them, but very famous. Being my harshest critic took me – in the course of my life – to pursue more realistic goals, like being an astronaut or an astrophysicist. I guess I have a thing for stardust.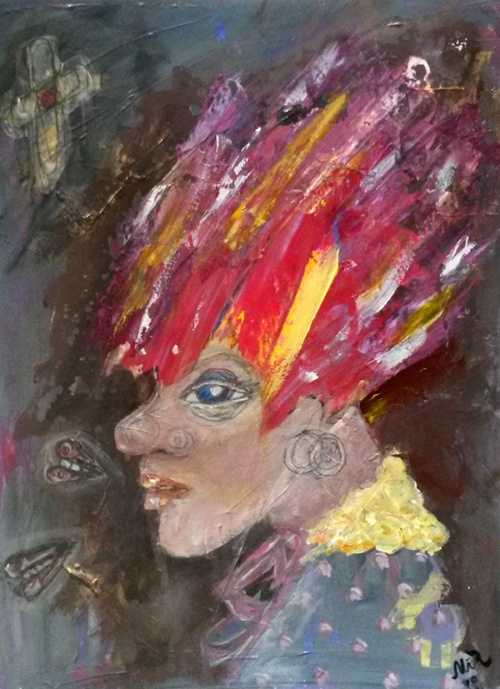 Math and physics were good on me in highschool – that is – until I took a vocational test which
destroyed all my dad's hope in me. My subconscious me was a die hard artist. I opted for arty careers that could also pay the bills. I finished graphic design and was midway through architecture when I decided to take a short vacation to visit some friends. This short trip to Europe has lasted 17 years already. Eight of which I almost forgot I was an artist.
Looking back at these last nine years of my artistic development, serendipity – as you can see – has always been a theme in my life. There's always a surprising way and a wonderfully moving experience.
I trust life, in every decision I make and every line I draw,
that something beautiful is waiting to be discovered.
---
Thanks for reading this far!
I would love to stay in contact with you through my newsletter. I will send it once or twice a month, and it will show you things that are only for
subscribers. Things like first option for new artwork, private images of my creative process, as well as other special quirks.

P.S. You will always be able to unsubscribe
and your data will always be kept privately.
Kind regards,
Atamayka
---
For small daily videos of my drawings and paintings, you can also follow me on instagram and facebook
Merken
Merken
Merken
Merken
Merken
Merken